Bathrooms reflect our style. It says a lot about our personal style. Therefore, we must always dream to have such a space where we can get maximum comfort and pleasure. Apart from this, it is also necessary that your bathroom is equipped with the right set-up. The amenities must be in perfect positioning so that you can easily continue with your household chores.
It must add value to every single day of yours. Therefore, it becomes very important to design the perfect set of bathroom for yourself. And, with the help of proper planning and cautiously choosing the right design and decor for your bathroom, you can definitely solve this problem. Therefore, in order to ease your work we have mentioned down some points. These guidelines must be considered before you plan your next Toronto Bathroom Renovations.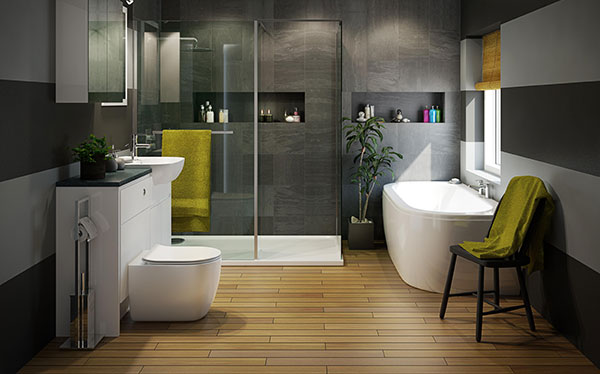 1) Invest your time in planning your bathroom design
Before calling a bathroom remodelling company, you must invest your time in planning each and every detail of the set-up. Try to have a meeting with the people who will be using the bathroom in future. Have a good discussion about the fixtures, furnishing and about the whole design. Also, try to plan the budget for the same. Since extra costs are unpredictable, therefore it is highly recommended to keep your budget a little higher than expected.
This planning is one of the first steps towards your Toronto Bathroom Renovations. It will also assist you in going along with the project with proper data and statistics. You will also get a rough idea as to how much time the whole renovation thing will take. It is always advisable not to change the plans in between the work. Attempt to change it only if the present work tends to exceed the budget you have agreed upon.
2) Choose the bathroom layouts properly:
Usually, it has been seen, that bathrooms tend to have at least one bathtub, toilet and a sink. Extras like a bidet and a shower can also be added if required. People also go for keeping an extra sink if the number of people who will be using the bathroom is more. Apart from looking onto the fact as how much space will be occupied by the furnishings, it is also very important to note down its overall design and look. Be assured to choose the layout that will suit your bathroom design. Contrasting colours, subtle and warm tones etc can definitely bring out the beauty of your newly renovated bathrooms.
3) Customising your bathroom:
Customised bathrooms are always a trend. Therefore, you can also go for the same. You can opt for matching countertops, built-in cabinets, double-side sinks with floating vanities. You can even customise the space by including marble floors, warm-toned walls and huge drawers to store your toiletries, linens and emergency supplies.
4) Planning for the wet rooms:
Go for a good planning before renovating your wet rooms. These type of rooms usually come with a shower. Enclosures are not provided and the water from the shower directly drains away via an outlet inbuilt on the floor. Therefore for wet rooms, the furnishings must be made waterproof. Also, remember to waterproof your cabinets, appliances and flooring as well. Special care must be taken on flooring as one may tend to slip. Proper and quick drainage mechanism must be implemented in order to ensure no mishaps.
Therefore, these are some of the points which you must consider before having your Toronto Bathroom Renovations. They will assist you in proper planning and prioritising your needs.